E-bikes in Patagonia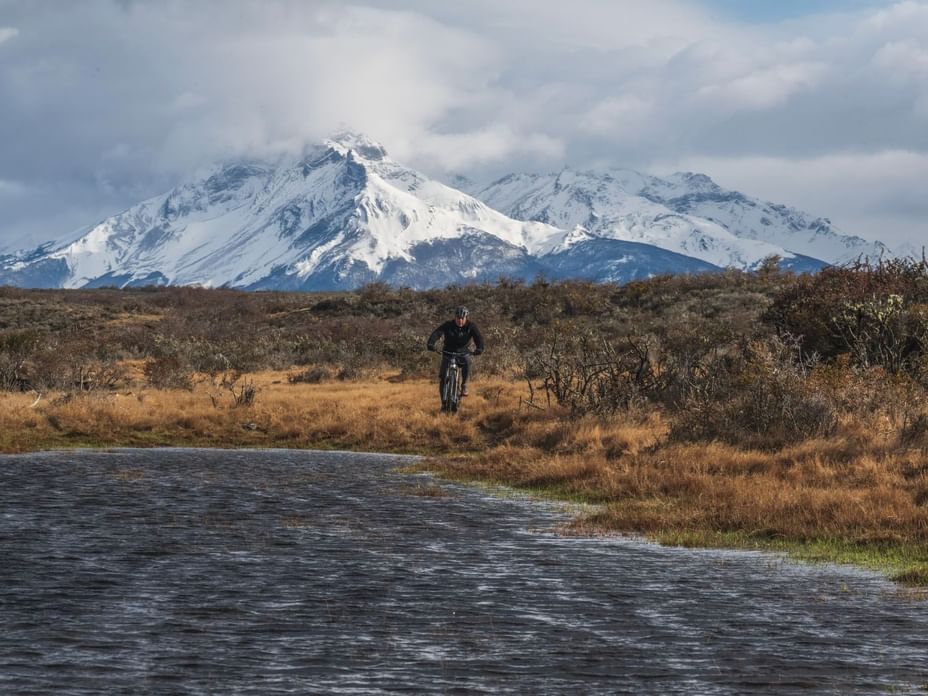 The use of an ebike (electric bicycle) in Chilean Patagonia can offer several benefits, both in terms of comfort and experiences in exploring this beautiful region. The following are some of them.
Assistance in Steep Terrain: Patagonia's topography can be challenging, with steep hills and uneven terrain. An ebike's electric assist makes navigating these areas easier, allowing you to climb hills and ride longer distances without exhausting yourself too much.
Increased Range and Exploration: Electric assist allows you to cover longer distances in less time. This expands your exploration options, allowing you to access remote locations and enjoy spectacular scenery that might be out of reach for a conventional bike in the same amount of time.
Adaptability to Variable Weather Conditions: The weather in Patagonia can change rapidly. Electric assistance can be especially useful in adverse conditions, such as strong winds or rain, allowing you to move forward more easily and quickly.
Sustainable Experience: Using an ebike instead of a motorized vehicle contributes to a more sustainable experience. You reduce your carbon footprint and minimize your environmental impact while enjoying nature, contributing to the preservation of Patagonia's natural beauty.
Less Fatigue: Traveling long distances in challenging terrain can be exhausting, but the electric assistance of an ebike can help reduce fatigue. This means you can enjoy the trip more and have the energy to explore other aspects of the region after your bike ride.
Interacting with the Local Community: By using an ebike, you can easily stop in local communities, interact with residents and immerse yourself in the local culture and cuisine. The mobility of the ebike gives you the flexibility to explore and enjoy every place you encounter on your route.
At The Singular Patagonia we have added two excursions to discover these benefits.
Biking at Three Caves. Cycling back to prehistoric times has its charm. In this excursion, we will venture by bicycle to the Milodon Caves Natural Monument, where the remains of the enormous extinct mammal that gives them their name were found. This area was also inhabited by ancient tribes that roamed these lands back in 6,000 BC, so we will get a true idea of the prehistory of this area.
As a second alternative we have E-bike at Estancia. An exhilarating combination of activity, beauty and cultural knowledge, this two-wheeled excursion takes us through wide meadows, quiet Nothofagus forests, and along bridle paths, while the sweeping vistas of Patagonia take our breath away. Experiencing the ancestral traditions of the estancia, where we will begin and end our excursion, makes this two-hour adventure even more enriching. Keep an eye on the seemingly endless sky, and you may even see some of the endemic birds of this region.
In summary, the use of e bikes in Chilean Patagonia not only makes exploration more accessible and comfortable, but also allows for a more intimate connection with the natural environment and local communities.
We invite you to get to know this experience.